Welcome to Dagger Records!
If you're a Hendrix fan and you've never seen one of our releases before, sit back and check out what make us different than just your typical record label…
So, you've been collecting Jimi Hendrix recordings for as long as you can remember. Core catalog releases such as Are You Experienced, Axis: Bold As Love, Electric Ladyland, and Band Of Gypsys are old hat for you. You have worn out your old, out-of-print vinyl copies of Rainbow Bridge and Hendrix: In The West and rejoiced in the revelations provided by recent releases like Live At The Fillmore East, BBC Sessions, The Jimi Hendrix Experience Box Set, Valleys Of Neptune, or People, Hell And Angels.
You've owned every album or video commercially available yet you still want more. We understand.
Jimi Hendrix devotees rank among the hardiest and most faithful in all of rock n' roll. Our proud ranks have survived so many disappointments throughout the years. From Get That Feeling to Jimi Hendrix At His Best to Crash Landing to Voodoo Soup, far too many of us have raced home from the record store, albums under our sleeve, eager to discover something new about our hero, only to realize we had once again been had.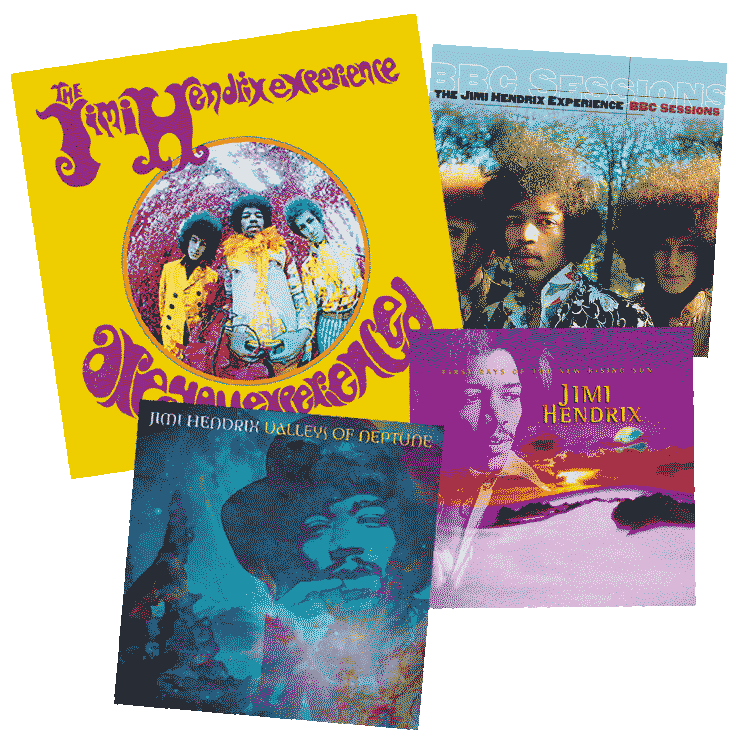 If you are a true aficionado of Hendrix, your collection has probably been augmented over the years by underground, unauthorized bootleg recordings. No matter what form &emdash; vinyl, cassette, CD-R, and now a myriad a digital formats like MP3, WMA, APE, SHN and a host of others &emdash; these haphazard compilations of random studio outtakes, television and radio performances, interviews, and amateur audience recordings of concerts have helped fans fill in the gaps left by Jimi's authorized albums.
The underground market for Jimi Hendrix recordings is rife with expensive, poorly annotated bootlegs. These haphazard compilations are often poor quality and too frequently deliver far less than they advertise.
To service Jimi's fans, we have created Dagger Records, a unique label established to release `bootleg' recordings which further detail Jimi's illustrious legacy.
Unlike Experience Hendrix, the Legacy Recordings / Sony Music distributed home of such classic albums as Are You Experienced and Electric Ladyland, releases by Dagger Records will feature inspired performances and revealing home and studio recordings which may or may not meet the technical criteria and high sonic standards Hendrix himself established over the course of his short but spectacular career.
The formation of Dagger Records was not intended to eradicate the underground bootleg market or replace the labyrinth network of tape traders across the globe. Instead, through Dagger Records, Experience Hendrix, L.L.C. and Sony/Legacy plan to service the healthy demand for Jimi's music with informative `bootleg' releases which are properly annotated, complete with photos and reasonable sonic quality. "Prior to our getting the rights to Jimi's music back, I used to see a lot of bootleg albums in stores and I too was probably one of the victims of high prices and shabby product," explains Janie Hendrix. "It really made no sense [considering] that we have a whole vault full of Jimi Hendrix material. Obviously not all of the material is of the commercial quality that commercial record labels would require, so we approached our partners and with this concept and here we are today."
Explaining that not all fans are satisfied with owning the commercial releases, Janie Hendrix adds, "Die hard fans wanted to get anything and everything on tape of Jimi. Dagger Records gives us one way of fulfilling those requests. It also allows us to help fans not be gouged by bootleg prices."
All Dagger Records will not only be priced lower than typical bootleg prices, they will also be beneath standard retail charges. Single disc releases are priced at $12.00 while double CD sets are just $15.00, plus we will released limited edition vinyl pressings at select times at prices noticably lower than typical modern LP releases. "I think it will be a refreshing change," states Janie Hendrix. "Fans won't be paying those exorbitant prices. We still will be doing beautiful booklets describing what exactly is happening in the recording. Despite the limitations of each recording, we have tried to make each the highest quality we can, including adding Eddie Kramer in the studio to help get the most from the original master tapes.
In addition to the low prices and high quality, Dagger Records also delivers authenticity … something unauthorized bootlegs can not offer. Janie Hendrix explains. "Part of the whole dream behind Dagger is to give the fans something they want … new insights into Jimi's legacy."
We hope you enjoy this added dimension to the Jimi Hendrix music legacy.
Authentic Hendrix Archives
Help us continue to tell the story of Jimi Hendrix
Did you see Jimi Hendrix live in concert?  Meet him at a special event?  Did you photograph, film or record one his performances?  Do you have original photos/negatives/slides, tickets, posters, film footage, etc?
If so, we want to hear from you.  Contact us today and help us build the experience.
Owned and operated by Experience Hendrix, L.L.C., the same company behind all of the commercially available Jimi Hendrix music released worldwide. Dagger Records is the only place you can get bootleg style recordings of Jimi Hendrix that have been fully authorized by legendary musician's own family.   Each release is restored from original tapes, remastered to the highest industry standards and include full color liner notes delving into the story behind the music. Site Credits.